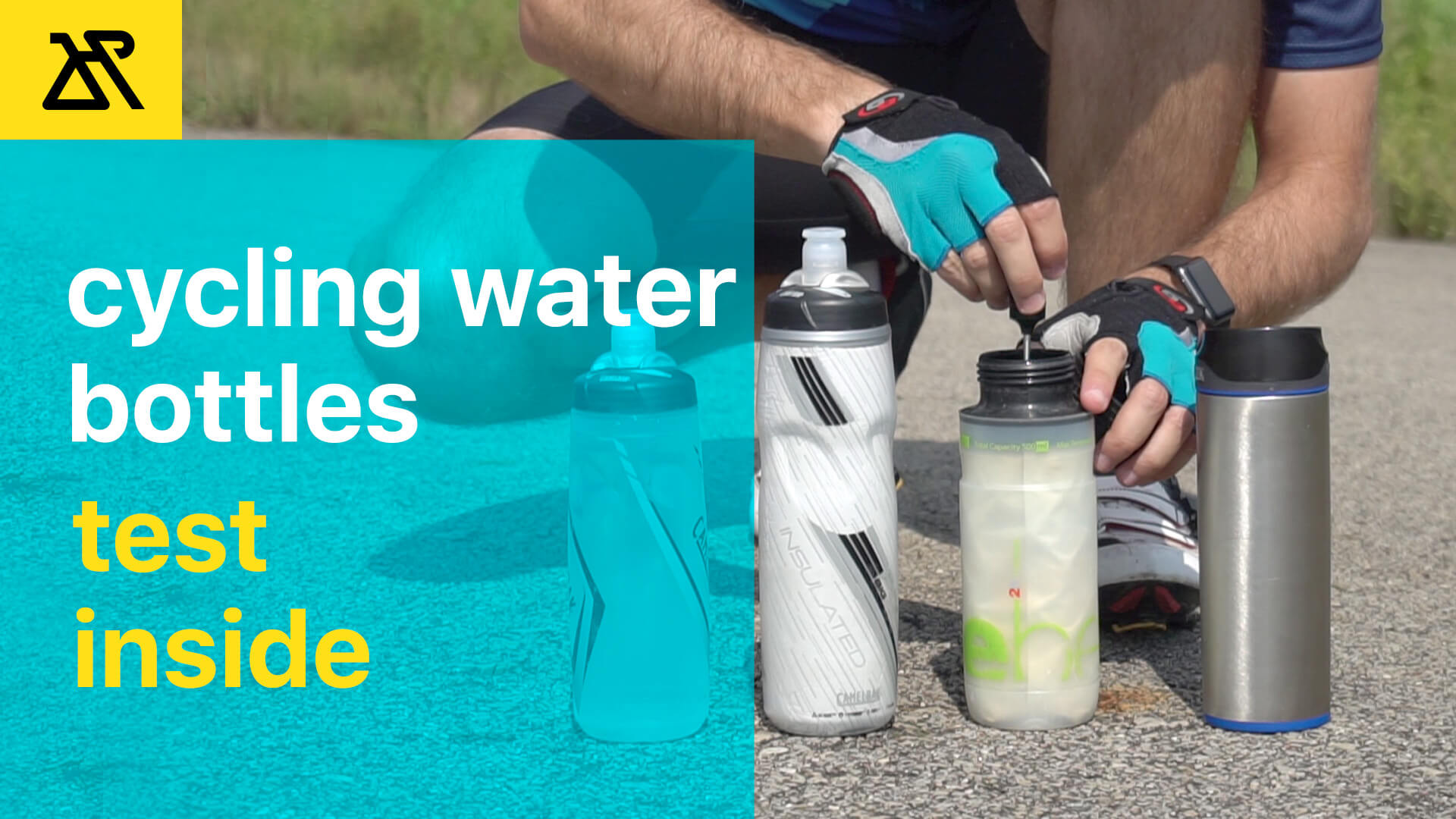 Hydration is essential and sometimes overlooked while cycling. You will require a bottle to keep the water with you during the ride. There is one downside of the water bottles. Outside temperature influence on the water temperature in the bottle. In hot weather, water may become too warm, but in cold weather too cold to drink. You may have your favorite level of the water temperature, and different bottles may fail your expectations.
I started to search for options to find the solution. Let's try to look at different bottle types which are designed for cycling bottle cages:
Regular / Fly bottle. Basic plastic bottle to keep your water during the ride. Structure of the sidewall is flexible and easy to squeeze your water out of. These bottles are the lightest from other options.
Insulated bottle. Similar plastic bottle. Usually, have an additional layer of insulation which helps to maintain the cold/hot water for a longer time. Also, they are larger to hold the same amount of liquid as a regular bottle. For example, if your standard bottle is 550ml the size with insulation layer will be like a 750ml bottle. You need somehow to check if bottle will fit your frame. Especially if you have small size frame.
Thermos type of bottle. Comes with vacuum insulation. Manufacturers claim they keep your water hot or cold for 2-3+ hours. They are the same size as the regular bottle but keep less liquid. Due to hard sidewalls, it's impossible to squeeze the bottle. From downsides, I would mention that the lid is not designed for cycling. It is hard to hold the bottle and to take gulps without a stop.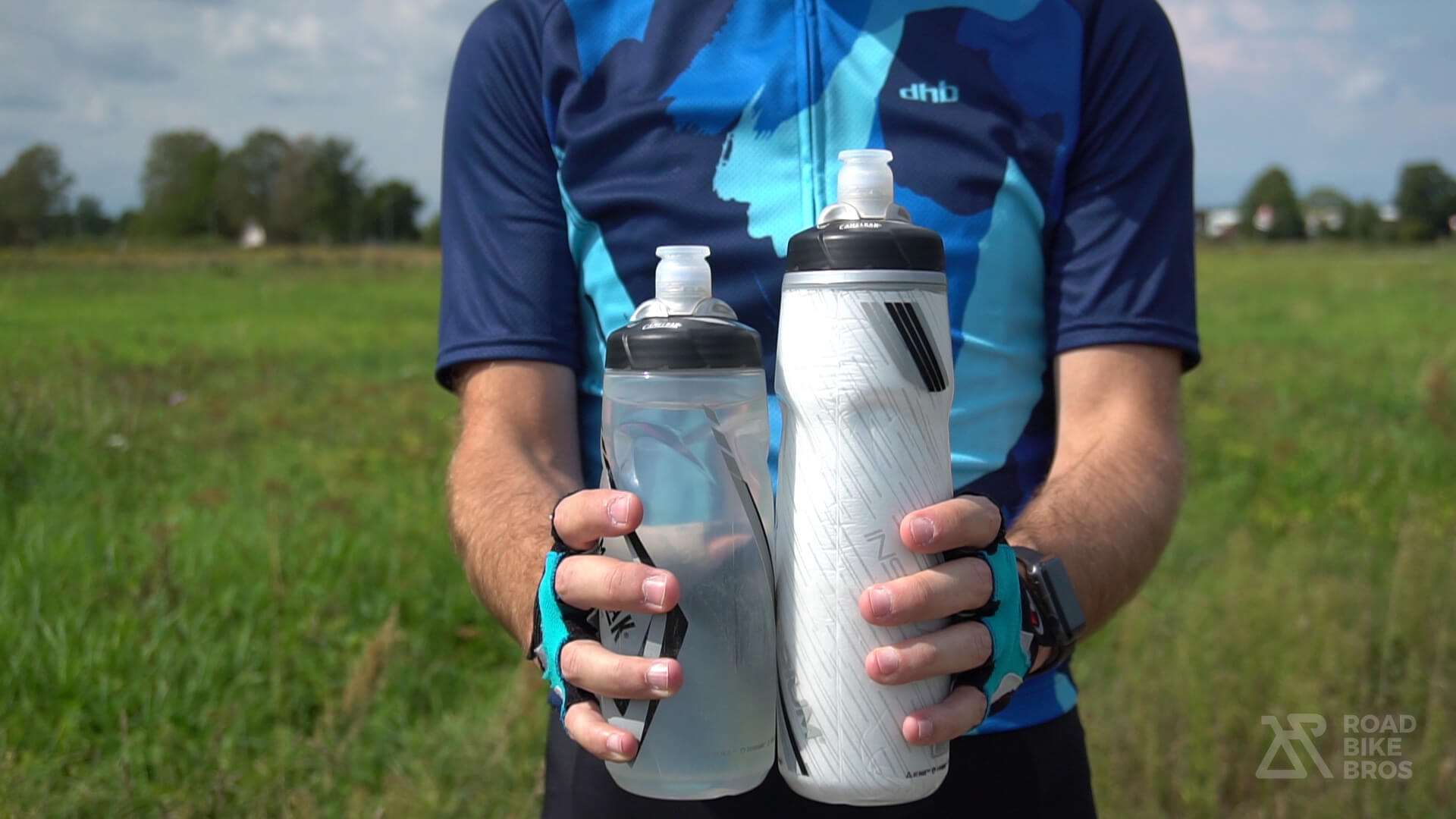 My experience
Today I'm using 3 different bottle types based on different situations. I thought it would be interesting to compare them. How they work in different outside temperatures. I did the real world test, and in the table, you can see the results.
The Test
For this test, I have used water from the water cooler with temperature 20°C (68°F). This is my perfect drinking temperature. Outside temperature was 30°C (86°F) degrees. I took measurements after 30 minutes, 1 hour and 2 hours ride with the special digital thermometer. Tool accuracy is ±1°C (1.8°F). For the test I took:
Regular bottle
Two insulated bottles from different brands
Vacuum insulated bottle
Test
30 min
1 Hour
2 Hours

Water 20°C (68°F) / Outside 30°C (86°F) direct sun

Camelbak Podium (710ml)
88.1° F

31.2°C

 

95.5° F

35.3°C

98.9°F

37.2°C

Camelbak Podium Big Chill (750ml)
80.6°F

27°C

89.9°F

32.2°C

99.1°F

37.3°C

Elite Iceberg (Thermal)
76.6°F

24.8°C

84.4°F

29.1°C

93.0°F

33.9°C

Camelbak Forge Vacuum (Thermos)
70°F

21.1° C

71.8°F

22.1°C

75.0°F

24°C
The Results
From the table results, you can see significant temperatures differences. After 30 min water in the regular bottle became warmer at 11.2°C (20.1°F).
For me, the surprise was that two bottles with similar insulation technologies hold the water temperature differently. For one hour there is the temperature difference between them is 3.1°C (5.5°F).
The clear winner here is a vacuum insulated bottle where the temperature difference is only 4°C (7.2°F) after 2 hours. It's a great result, but as I have mentioned previously, they hold much less water than the regular fly bottle.
Also, keep in mind that I have used light bottles. I always recommend selecting light colored bottles. The black bottle may add up to an additional 8°C (14.4°F) degrees after 2 hours to the results in the table.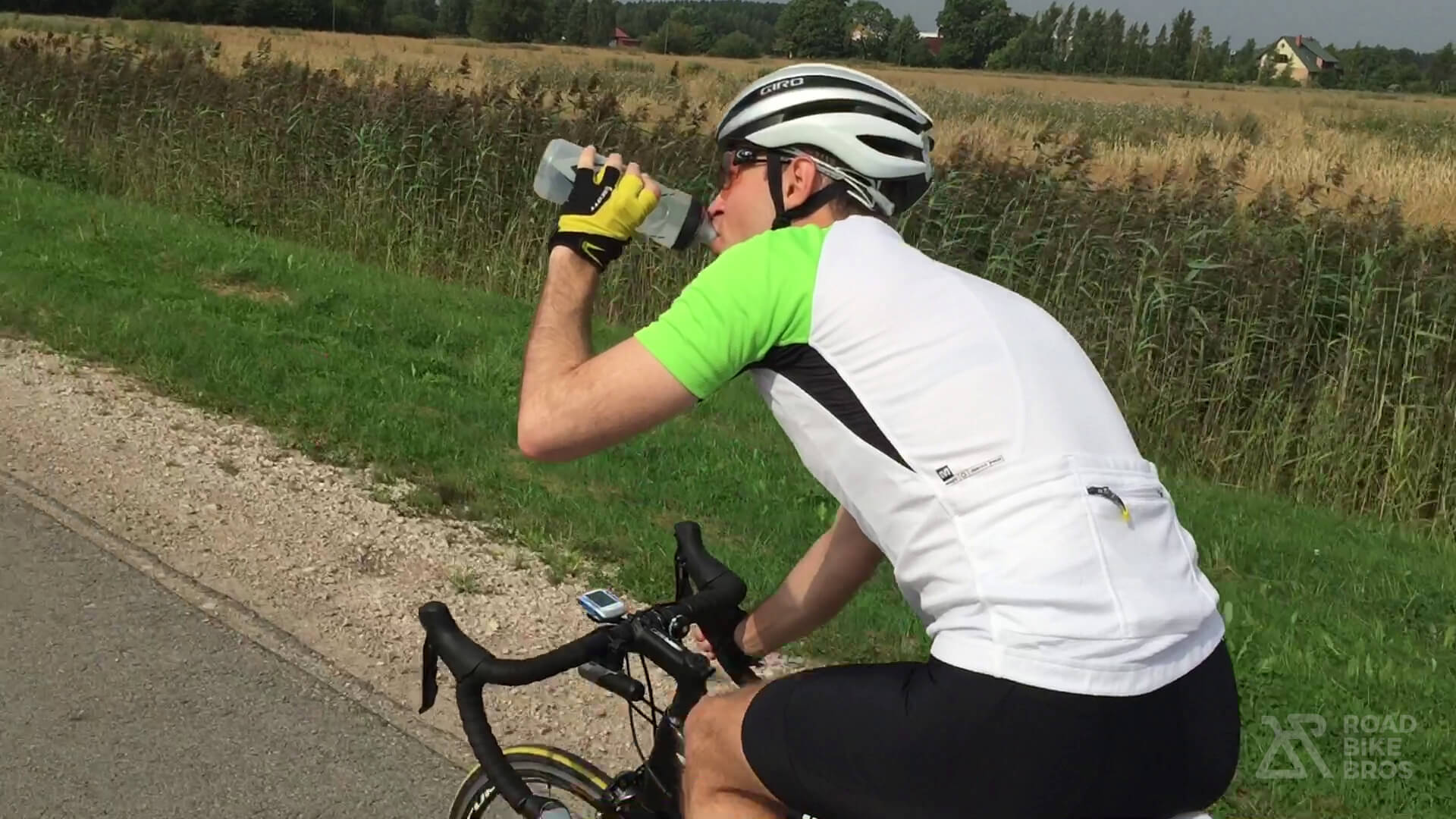 Each bottle has its advantage and disadvantage. I hope that today's test results will give you a clear understanding of which cycling bottle to choose based on your preferences.
Please let me know which water bottle is suitable for you in the comments below. Check more videos and don't forget to subscribe to Youtube RoadBikeBros channel. Your support is much appreciated. Enjoy cycling, and I will see you next time!