Hydrodynamic Chain Lube is positioned as race oil. We like tools, which use Pro riders. But, how this oil works for a regular riding?
I used Hydrodynamic lube on my bike for about 2000 miles (3200 km).
I believe that chain lubrication is important for any road bike rider. It will give you tremendous advantages by keeping your chain in good condition. In my series of chain lubricant reviews, I set my goal to find the best chain lubricant on the market. I will make all my lube reviews based on the factors like:
Long lasting. Lube should last about 100 miles (160 km) in dry conditions.
Cleanliness. The chain should stay clean and simple to maintain.
Ease of use. Lube should have the easiest re-lubrication process.
Performance. All about watts, smoothness and noises.
Packaging design. Aesthetics of the packaging and clear instructions will be taken into consideration.
Now let's see how it works. Hydrodynamic created from synthetic polymers. The lubricant is a wet type; it means that available for use in any weather conditions. This lube developed for Pro racers, and it has multi victories with Team Sky in Tour de France. It has two main advantages:
Long lasting;
Low friction.
Mileage
Single application allows to cycle more than 300 miles (500 km). This is the very impressive number. It is the really long lasting lubricant.

Cleanliness
The lube creates a black layer on the chain. You should be very careful with your clothing because black wet lube quickly can make your clothes dirty and may stay even after washing. Oil attracts small particles of sand to the chain.
Ease of use
I don't like that oil requires complete chain cleaning before re-lubrication. For the best result, re-lubricate your chain after 250 miles (400 km) or earlier. Chain cleans from the oil very well.
Performance
From muc-off laboratory test, chain loses only 5.1 watts that is one of the best results. Next advantage is a smooth and quiet chain at all distances. The chain doesn't produce any squeaking noise.
Packaging design
Hydrodynamic chain lube has the quality packaging. Package and oil bottle design is great. It is pleasant to take into hand. The nozzle is small and it's easy to apply lube on the chain. Package includes oil, instruction and ultraviolet led light (UV torch) for better lube visibility and coverage after application. UV torch may look like an unnecessary feature, but still, adds a bit of fun.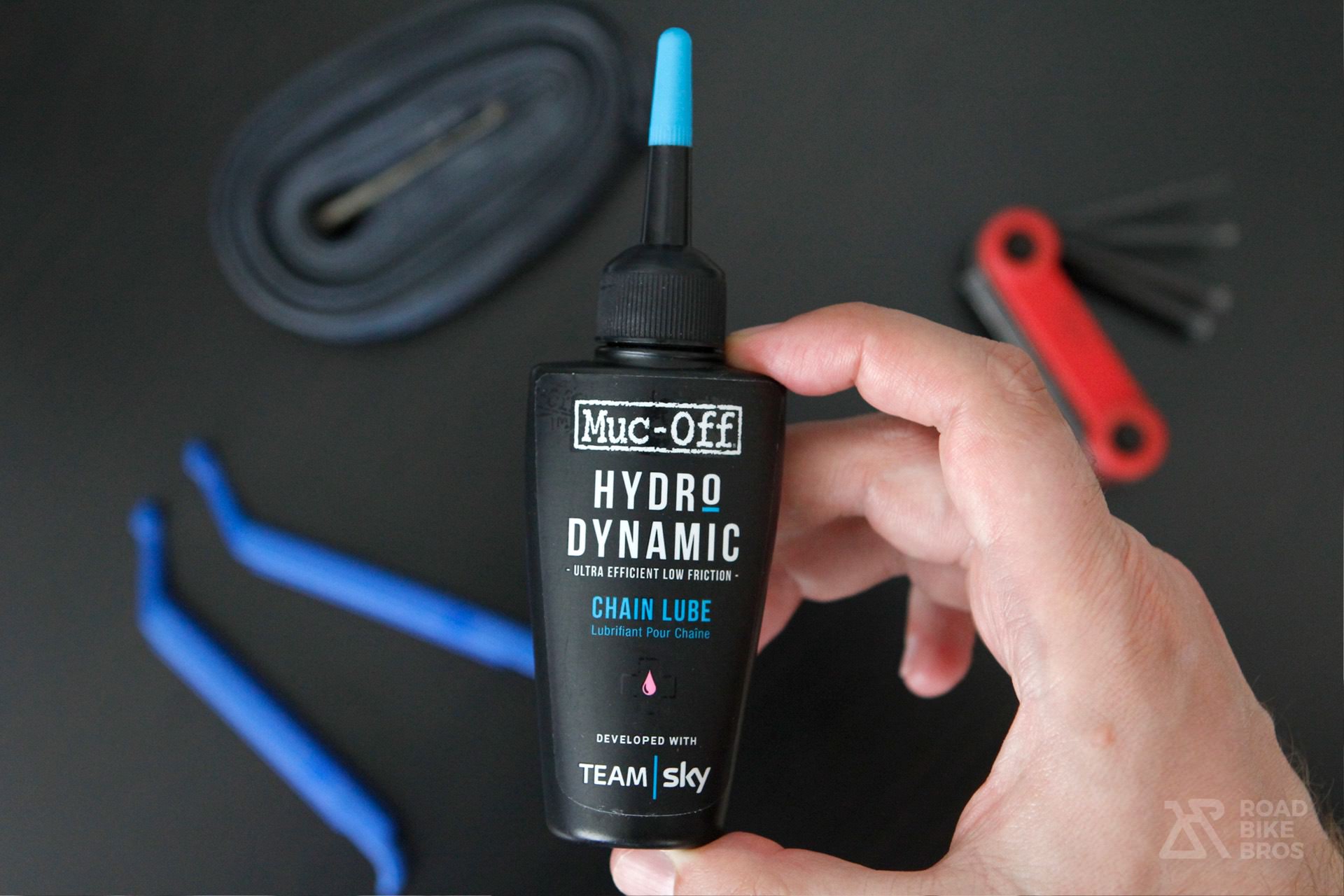 Apply lube correctly. For chain service, please follow instructions I have developed for myself:
Initial application (my method).
Clean drivetrain and chain before lube application using a degreaser.
Ensure that the chain is dry. Use a paper towel.
Shake the bottle with lubricant 10 seconds and apply one small drop per each roller on the bottom chain (internal links).
Note: Excess quantity can spray into a wheel.
Make ten backward and ten forward rotations.
Give lube to dry for overnight.
Check the lube coverage.
If necessary, wipe the excess lube carefully.
Re-lubrication process.
Clean drivetrain and chain before lube application using a degreaser. Paper towels don't allow to clean it well. Sand particles stay inside chain rollers and in this case, deep cleaning is required.
Steps 2, 3, 4, 5, 6, 7 – are the same as for Initial application.
Summary:
Team Sky Hydrodynamic lube is smooth and quiet on long rides. One bottle of 1.7oz (50ml) will last up to 4000 miles (6400 km). You should be careful with black build up. The chain requires deep cleaning before lubrication. Muc-Off Hydrodynamic is a competition-oriented product. It is high-performance lube, but it requires special care. Race lubricant has a premium price tag. This lube is not the best choice for general cycling and traveling riders.
Type: Wet
Smoothness and noise: very smooth and quiet, no squeaking sound.
Re-lubrication type: Cleaning with degreaser only. Lube as a magnet for little sand, which works as an abrasive and unavailable wipe with a paper towel.
Dirt attraction: Chain covers with matte black color after few rides, which not increase friction. Attract tiny particles of sand.
Bottle Consumption: 1.7oz (50ml) for 4000 miles (6400 km) in dry conditions.
Power required: 5.1 watts.
SaveSave
SaveSave
SaveSave