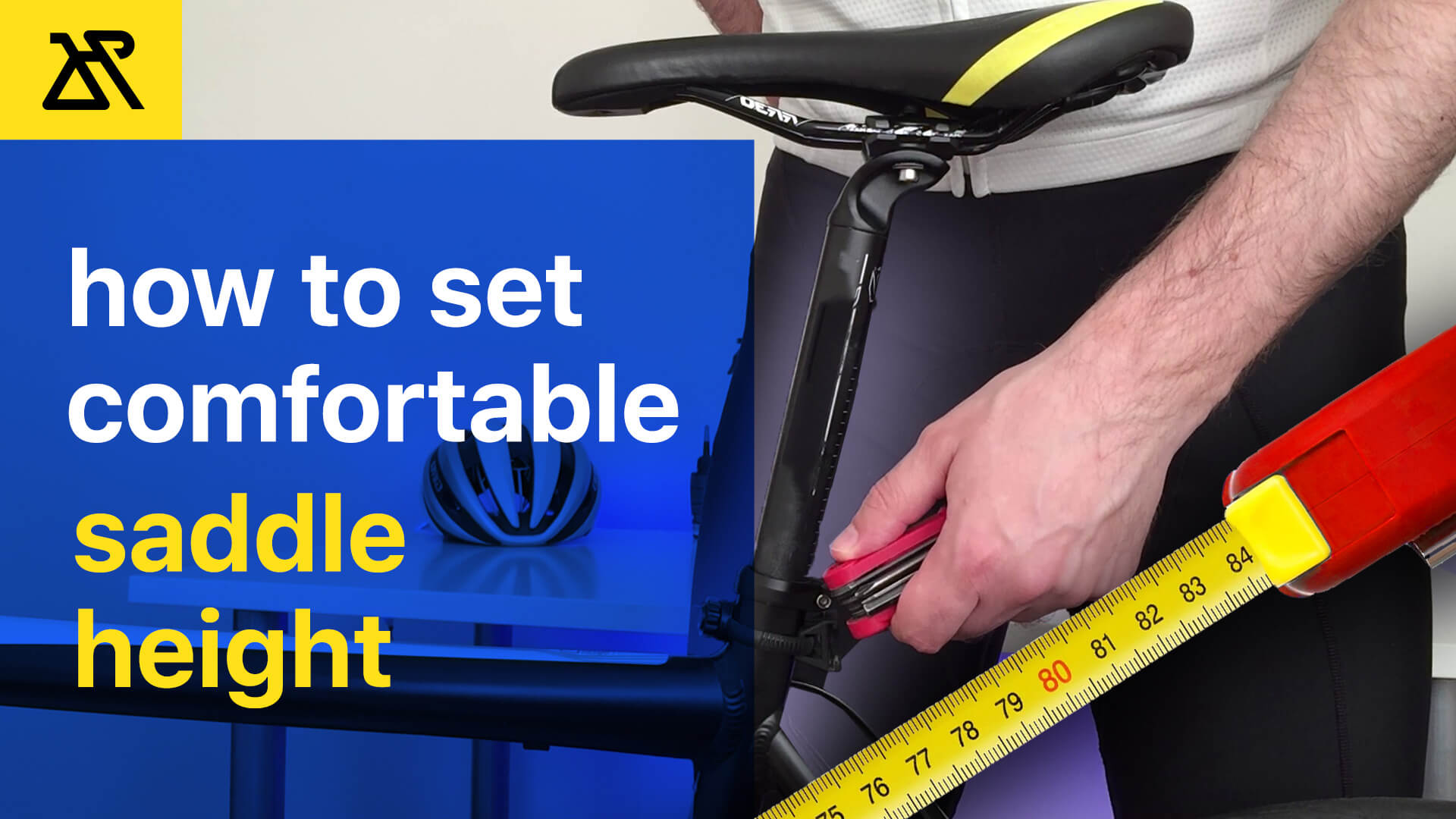 Saddle height is one of the essential things to set when you purchase a new road bike or need to check existing height. It's relatively easy to adjust, and it may give you the most benefits than any other adjustments or upgrade. Finding your road bike saddle height can increase your efficiency, comfort and reduce fatigue. There are few methods how to determine and set the saddle height. In this video, I will describe two best methods.
Saddle height is an important value in getting a comfortable and pleasant ride.
Saddle height can solve physical problems. A proper measurement may exclude issues like:
Soreness,
Lower back pain,
Pain under seat bones,
A pressure in the sensitive area,
Knees Pain.
Method Nr.1 quick and easy method.
It will work for people who don't have tools for measuring, but needs to go. This method would be a good starting point.
Place your bike near you on flat surface;
Locate the hip bone near the bicycle;
Raise the saddle to your hip and tighten saddle bolt.
First part finished!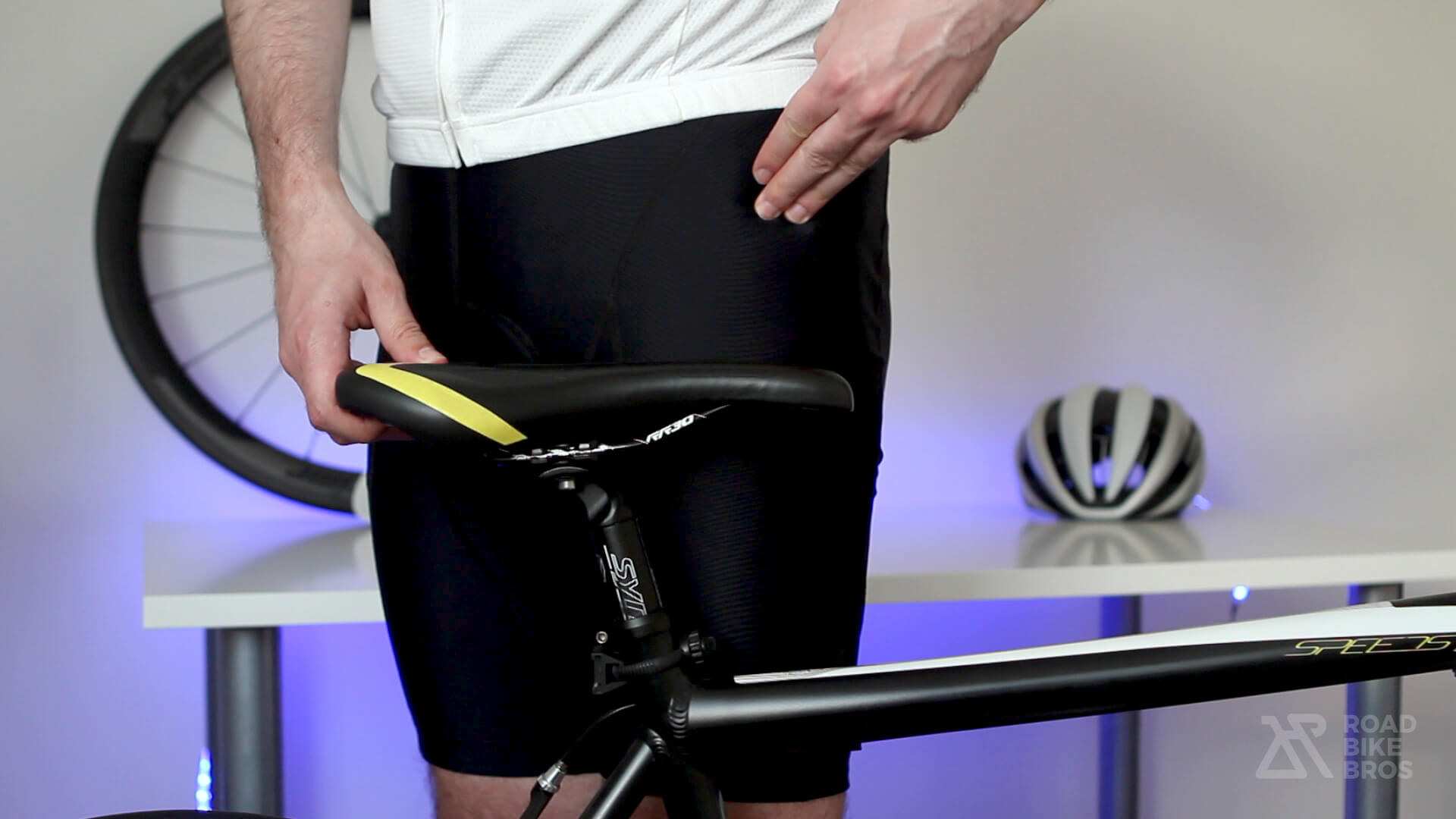 For double check, put the heel on the pedal and make few backward rotations. You should reach the pedals easily at any point. If you can't reach, make the saddle height lower. If your legs can get the pedals easy, you should increase the height of your saddle.
Try to make tests for few times and record your saddle height.
Method Nr.2 with a little science
This method is effective but requires more tools and time. It's more accurate than the previous method. I recommend using the second method as the default.
You will require:
Book, magazine or box;
Tape Measure; and
Calculator.
So let's try to take the measurements.
Place between legs available magazine, book, box or another piece that could help;
Take measurements from the ground until the highest point of the magazine using the tape measure.
 The measured result:
a. deduct 4 inches (10 cm), or
b. use LeMond Table (you can find it below), or
c. multiply inseam value into 0.883.
The final result from a), b) and c) should be very close.
Check my example with calculations.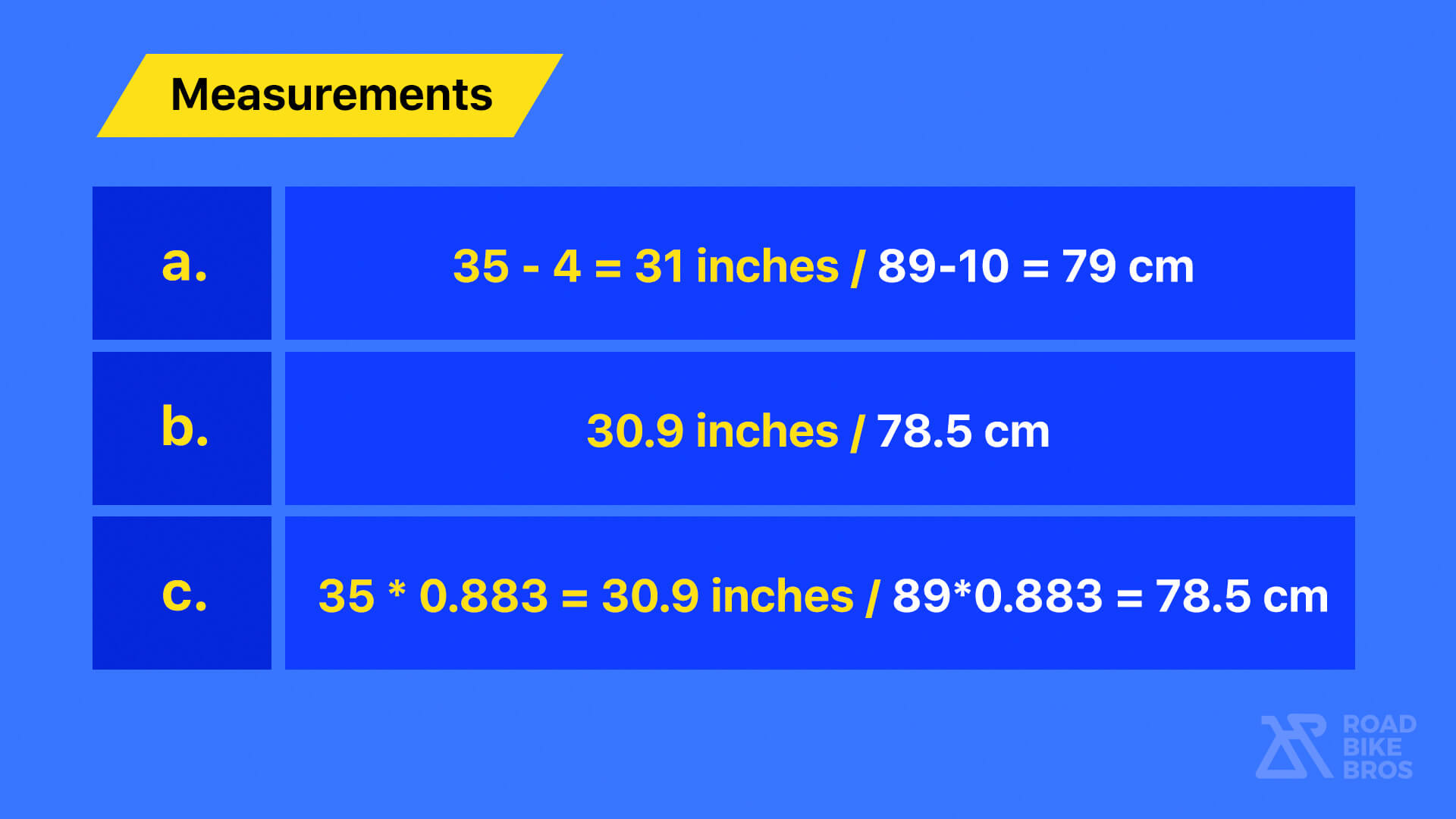 LeMond Table
Inseam

Distance from saddle Height to center of the bottom bracket axle

Inches

cm

Height, Inches

Height, cm

26

66.0

23

58.4

26.5

67.3

23.4

59.4

27

68.6

23.8

60.5

27.5

69.9

24.3

61.7

28

71.1

24.7

62.7

28.5

72.4

25.2

64.0

29

73.7

25.6

65.0

29.5

74.9

26

66.0

30

76.2

26.5

67.3

30.5

77.5

26.9

68.3

31

78.7

27.4

69.6

31.5

80.0

27.8

70.6

32

81.3

28.3

71.9

32.5

82.6

28.7

72.9

33

83.8

29.1

73.9

33.5

85.1

29.6

75.2

34

86.4

30

76.2

34.5

87.6

30.5

77.5

35

88.9

30.9

78.5

35.5

90.2

31.3

79.5

36

91.4

31.8

80.8

36.5

92.7

32.2

81.8

37

94.0

32.7

83.1

37.5

95.3

33.1

84.1

38

96.5

33.6

85.3

38.5

97.8

34

86.4

39

99.1

34.4

87.4

39.5

100.3

34.9

88.6

40

101.6

35.3

89.7

40.5

102.9

35.8

90.9

41

104.1

36.2

91.9

41.5

105.4

36.6

93.0

42

106.7

37.1

94.2

42.5

108.0

37.5

95.3

43

109.2

38

96.5

43.5

110.5

38.4

97.5
4. Measure distance from of the center on the pedal axle till the top of the saddle and tighten saddle bolt.
Make notes with calculated saddle height. You can also check the seatpost markings and try to remember them for the future.
For double-check, rotate the crank with your heel trying to reach the pedal. You should get it easy. Even better if you own turbo trainer, it would be helpful and safely to check new adjustments.
Now all done and you should be happy with the new changes. If you feel some discomfort, try to play with saddle fore/aft and tilt positions.
I think the most important is the height of the saddle. Additional fore/aft and tilt position adjustments are important and are individual for every cyclist like a saddle. If it's hard for you to find the correct saddle height and fore/aft, tilt position try to ask for the help at your local bike shop or make professional bike fit.
Tips:
Don't forget regularly check saddle height or when new saddle installed.
Sometimes saddle going down under rider weight, because bolt not tightened as required; and
Different saddles have different thickness. Any seat raise into calculated height.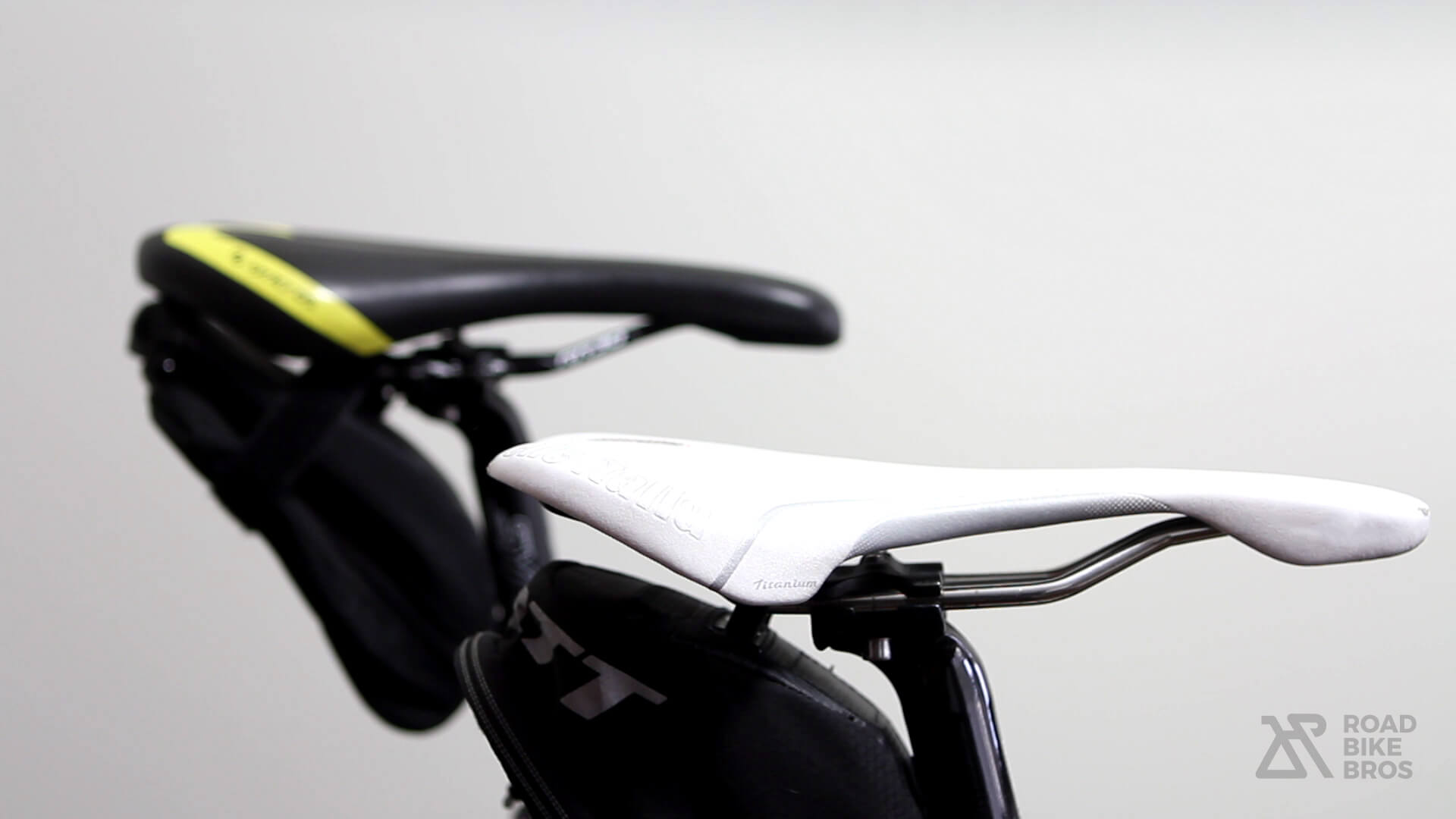 Now you should feel the difference if you had other height. Try to give the body some time to adapt to the new position. Don't try put saddle higher than calculated.
Thank you so much. Don't forget to subscribe to like and leave comments to this article. Enjoy cycling.